You can edit, cancel or change membership details, including your password, by logging into your profile page.
Once you've logged in, click on your name 'Hi, name' on the top right hand corner.

Then, select 'Edit personal details' from the left navigation.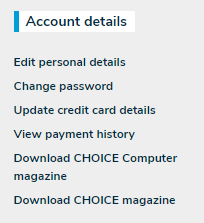 If you'd prefer to talk to us, call Customer Service on 1800 069 552 (free call within Australia) from Monday to Friday, 9.00am–5.00pm (AEST or AEDT). You can also email us and we'll get back to you within two working days (excluding public holidays).